The Delights of Luxembourg's Gastronomy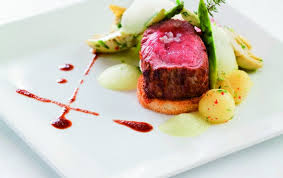 Enjoy a culinary tour of Luxembourg's local and international cuisine, and experience an exciting blend of tastes!
Star-studded culinary scene
Luxembourg offers an abundance of restaurants, serving regional as well as international cuisine. You will find a high concentration of restaurants and bars around Luxembourg City, offering plenty of choices from which to choose.
Luxembourg has many acclaimed restaurants and in 2012 boasted the highest concentration of "Michelin Stars per Resident in Europe" – a total of 12 stars for 11 restaurants. The Michelin Red Guide is the oldest and best known European Hotel and Restaurant Reference Guide in the world.  Only a select few restaurants are awarded the prestigious Michelin Stars for excellence.  The 2012 Belgium and Luxembourg edition of the Gault & Millau Guide also credited 4 restaurants with 18/20 points.  One special restaurant received 17/20 points and was also honoured with the highly sought-after 'Chef of the Year' award.
Eating Luxembourgish
Traditional Luxembourg cuisine is a rather hearty cuisine that has been heavily influenced by central European cooking and by the neighbouring countries of Germany and France.
Many dishes that are known to travellers in other countries have taken on a Luxembourgish name and although they may be difficult to decipher for non-Luxembourgish speakers, the cuisine should not to be missed. The most well known Luxembourg meal is 'Judd mat Gaardebounen', which is a smoked neck of pork and a broad bean casserole with a thick creamy sauce. Traditional dishes include 'Kachkéis' (soft cheese, melted and served with bread), 'Bouneschlupp' (French bean soup), 'Fierkelsrëppchen' (grilled spareribs) and 'Quetschentaart' (plum tart). A trip to Luxembourg is not complete without a taste of 'Gromperekichelcher' (literally: potato biscuits, which are a type of fried shredded potato cake containing onions, shallots and parsley). Typically found at outdoor events such as markets or fairs, they are absolutely delicious and make a particularly nice snack. If you are looking for traditional food in the Moselle region consider the 'friture de la Moselle,' small fried fish.
Wonderful International Cuisine
In most restaurants, French cuisine is served. Italian food has been popular since the 1960s and Portuguese restaurants started emerging from the 1970s onwards. Nowadays almost every international cuisine is represented in Luxembourg, ranging from Asian, to various European, Middle Eastern and African specialty restaurants.
Land of wines and beers
The Moselle Valley white wines are highly regarded by both Luxembourgers and wine connoisseurs in neighbouring countries. Luxembourg producers offer a wide variety of wines such as Elbling, Rivaner, Pinot Gris, Pinot Blanc, Riesling and crémants, and a bubbly wine created using the Champagne method. These wines are mostly light white wines.
There are a number of breweries in the country.  The most popular beers are Bofferding, Diekirch, Mousel and Simon.
Please note that the legal drinking age in Luxembourg is 16 and drivers must maintain a blood alcohol level below 0.05%.
More information about Luxembourg's Gastronomy
---