Travel
Luxembourg is located at the heart of Europe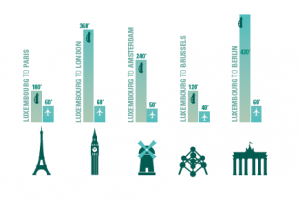 How to come?
By Air
International airport in Luxembourg :
Luxairport, it is Luxembourg's only international airport
National airline : Luxair with regular flights to: Agadir, Alicante, Amsterdam,
Barcelona, Copenhagen, Djerba, Faro, Frankfurt, Geneva, Hamburg, Heraklion, Korfou, Kos, London, Madrid, Malaga, Munich, Nice, Palma, Paris, Rhodes, Rome, Strasbourg, Saarbrücken, Tenerife, and Vienna.
Other airlines link Luxembourg to: Boston, Brussels, Budapest, Hamburg, Lisbon, Milan, Zurich, to name but the major destinations.
By Train

C.F.L. (Luxembourg Railways) with electrified railways and buses covering the whole country.
By Car

The road network is very good all over the country. All roads and motorways are toll-free.
Luxembourg to Paris
– 180′ by car
– 60′ by plane
Luxembourg to London
– 360′ by car
– 60′ by plane
Luxembourg to Amsterdam
– 240′ by car
– 50′ by plane
Luxembourg to Brussels
– 120′ by car
– 40′ by plane
Luxembourg to Berlin
– 420′ by car
– 60′ by plane
---