Australian inducted as FIABCI World President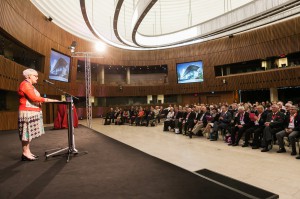 The Real Estate Institute of Australia (REIA) is delighted that an Australian has been elected as the World President of the Federation Internationale des Administrateurs de Biens Conseils et Agents Immobiliers or International Real Estate Federation (FIABCI).
Robyn Waters was inducted as World President at the FIABCI 65th World Congress held in Luxembourg last week.
Ms Waters is only the third Australian to hold the honoured international position and has created history being the first Australian woman to be elected to the role. Previous Australian World Presidents are Woodrow Weight OBE and John Greig OAM.
REIA President Peter Bushby says, "Robyn has been a member of the FIABCI Australia Chapter for 37 years. During this time she has served on professional committees, attended 24 FIABCI World Congresses and is a proud recipient of the FIABCI Australia Medal of Honour."
"Robyn is a highly respected real estate practitioner from Melbourne and has been a stalwart of the industry not only through her involvement with the Real Estate Institute of Victoria (FREI CEA REIV) but as President of the FIABCI Australia Chapter from 2008 until 2012 and as current member of the FIABCI Australia Executive Committee."
International representation includes serving as a FIABCI Board member, President of the FIABCI Membership Committee and in 2011, Ms Waters was elected Secretary General of the FIABCI Asian Pacific Committee.
"Robyn knows and understands the organisation and its work and her ability and enthusiasm equip her well for this significant and seriously busy job," concluded Mr Bushby. FIABCI represents all real estate disciplines – brokerage, property management, valuation/ appraisal, property development and consulting, lawyers, insurers, architects and urban planners. REIA is the principal member of FIABCI in Australia.
Source: Real Estate Institute of Australia (REIA)
---