Thousands of meeting opportunities in Luxembourg this May 20-22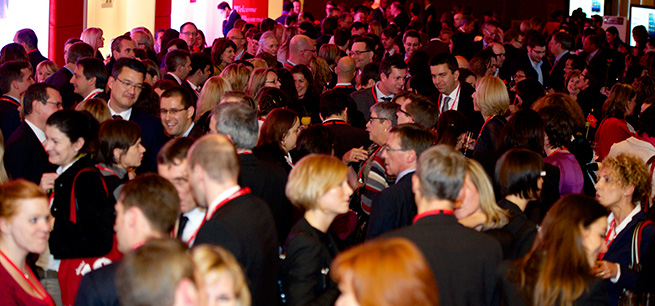 The 65th edition of FIABCI World Congress presents a fabulous opportunity to develop your international contacts and meet key decision-makers active in the real estate market.
FIABCI is one of the oldest real estate federations and the choice of where to hold its international summit is often competitive. For the first time in 65 years, Luxembourg won against Rome to host the World Congress and more than 1,000 real estate decision-makers from some 35 countries will meet up on May 20-22 at the New Conference Center in Kirchberg.
Organise your agenda to benefit the most from this unique event!
Book your business meetings with international decision-makers
The Meet & Match programme enables participants to meet professionals based on their profiles and interests. It provides an easy way to generate new leads and benefit from great business opportunities. Indeed, each attendee has the possibility of selecting people they want to reach and to organise their own World Congress schedule to take maximum advantage of this event.
The Exhibition zone
Are you coming to the World Congress to network with professionals? Make contact with more than 20 companies who have stands in the exhibition zone. They will be pleased to present you their projects, solutions, services, ideas and will gladly exchange their views on the current market. Among the companies represented, you will have the pleasure of meeting: Agora – Baker & McKenzie – BDO – Codic – CRP Henri Tudor – Cushman & Wakefield – Farvest – KPMG – Loyens & Loeff – Luxembourg for Finance – Neobuild – Office nationale du tourisme – One Planet Communities – Paul Wurth – INOWAI (Property Partners) – PwC – Reding Avocats à la Cour – Sales-Lentz – SGG – Solum real Estate – SOS Villages d'Enfants
Meet innovation, meet brand new companies
This event strongly supports start-ups by offering them a chance to present their products and services. In particular, if you are keen on developing your market awareness and benefiting from brand new ideas, they will be very happy to meet up with you. Sablono GmbH – Leko – Lifelife – airboxlab – Watergy GmbH – GRID Design – popularc – Galimeo Sarl – Tagoodies Limited – Easycore Media Ltd – Mobile Garden UG (haftungsbeschränkt) – faultfixers.com – NTS Energie- und Transportsysteme GmbH will be among those present.
FIABCI World Prix d'Excellence Awards
If there is one moment not to miss, it is clearly the FIABCI World Prix d'Excellence Awards Dinner. It will bring together 700+ decision-makers for an exceptional awards ceremony to reward key actors from the sector on an international scale.
The FIABCI Prix d'Excellence Awards have taken place every year since 1964 and recognised the best real estate projects and professionals within the real estate sector. Real estate projects will compete for this highly prestigious honour that recompenses developments that best embody excellence in all the real estate disciplines involved in its creation.
The Prix d'Excellence Awards illustrate the FIABCI ideal of stimulating competition to provide society with the optimal solution to its property needs. 14 categories are open to candidates and this year, three Luxembourgish projects are in the competition: Belval Nord Housing Area, selected in the Environmental (Rehabilitation/Conservation) category, Center of Conferences CCK1 competes for the Public Infrastructure/Amenities category and the Solarwind Building presented in the sustainable development category.
Farewell Dinner
Hosted in the Centre Drosbach, this gathering will have a very special feel to it, as it will provide the final moments of conviviality together, and the last chance to engage with professionals before the end of the World Congress.
If you not had the chance to register for this event yet, register now on http://fiabci65.com/register-now/
---